New in our product range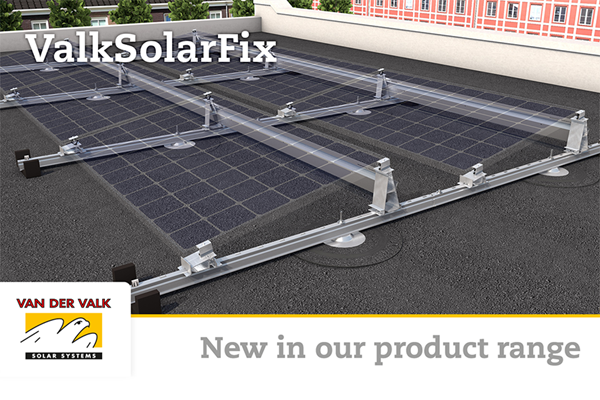 We are exited to announce a new product series under the name of "ValkSolarFix" for mechanical fixing on roofs.
ValkSolarFix
For buildings higher than 25 meters, in areas with high wind loads or on roof constructions that allow only minimal roof loads, it is a solution to use so-called "consoles" for the mechanical fixing of the PV-mounting systems. It goes without saying that high quality, durability and high loading capacities are a must for such fixing points. This in combination with a high level of knowledge and expertise, to ensure the best and most optimal solution can be selected for each project. All of these aspects come together in the ValkSolarFix products.
The ValkSolarFix is made from high-quality aluminium and can be mounted with a simple and easy method on roofs with a wood or steel plate construction using special screws or a toggle anchor. For concrete roof constructions a concrete anchor can be applied. The length of the screws or anchors can be selected based on the thickness of the roof insulation.
Compatibility
The height of the ValkSolarFix has been perfectly aligned with the ValkPitched systems for pitched roofs and ValkPro+ systems for flat roofs. No further height adjustments are needed. The large diameter of the collar provides a strong base to mount the roof carrier profiles of the ValkPro+ system on.
The ValkSolarFix can be installed with guaranteed water tightness by experienced roofers. For this reason the ValkSolarFix is supplied without additional roof membrane: the roofer knows best what roof membrane to use and can apply his own preferred way of working to ensure the water tightness of the roof. For the wholesalers this brings the advantage in terms of logistics and stocking of the ValkSolarFix, as more standardization can be achieved.