ValkPro+ P10 East-West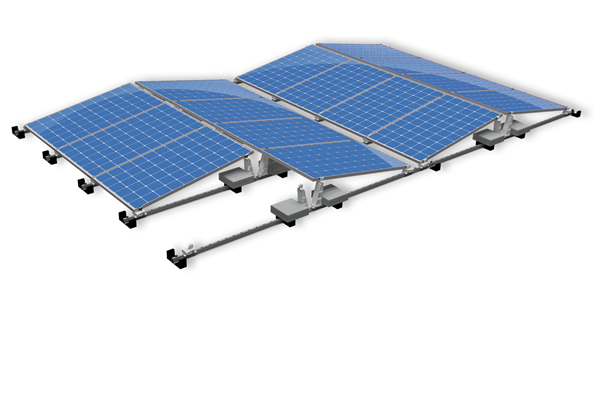 Unique to this system:
Portrait mounting
10° tilt angle
Std. pitch South: 3500 mm
Also available in South configuration
Communal features of the ValkPro+ L10, L15, P10
Mounting speed four to five minutes per panel (East-West or South systems)
Metal couplings (not plastic), so pre-prepared for grounding and lightning protection
Standard application to 25m roof height (higher on request)
Minimal number of comulsory items
Low ballast, supported by the national standards and wind-tunnel tests
Also suitable for two-metre and 'high power' panels
Foundation methods Flat roof systems
The ValkPro+ L10, the ValkPro+ L15 and the ValkPro+ P10 have different foundation methods. For example, the systems can be mounted using rubber tile carriers, mass blocks, or consoles.
Rubber tile carriers are easy to transport and install due to their low weight and soft structure and they also protect the roof surface.
The advantage of mass blocks is that they can immediately be used as a considerable part of the ballast. In addition, when mass blocks are used the height of the system in increased, which leads to easy mounting, for example, when applied as a field configuration. 

Consoles facilitate fixed mounting on the roof in areas with very high wind load or roofs that cannot bear any weight. This specific implementation guarantees water-proof sealing.
Glass panels
Besides the conventional solar panels with frames, solar panels without frames can also be attached using glass clamps.
Free Software
Using our free software, the ValkPVplanner, a complete project calculation with a list of items and a project-specific installation guide can be obtained in easy steps.
Customer talking
'We chose the ValkPro+ system because it's a full metal system and is connected using screw joints. This is also an advantage when grounding the structure.'
Mast-ProjectZ Solar Works