ValkPitched - Clamp | Steel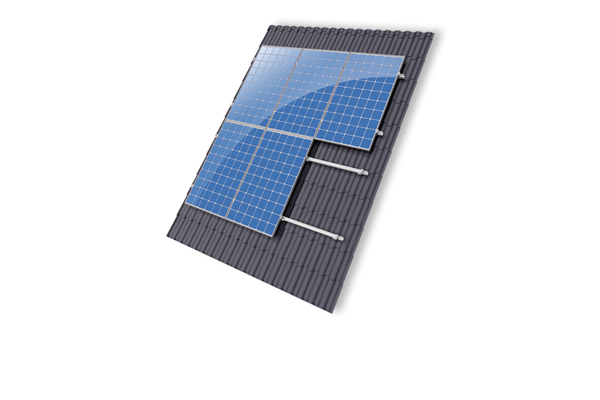 Unique to this PV mounting system:
Clamp system
Universal mid and end clamps (H 28-50 mm)
Less roof fixing necessary due to very strong profile
Connection piece as strong as profile, so no weak spots
Practical and safe lateral mounting
The ValkPitched – Clamp can be used for all types of roofs. Its innovative and strong clamping ensures a quick and reliable fixation.
The Side++ profiles with adjustable, universal panel clamps are available in plain aluminium, semi-black and entirely black versions. They are especially strong and long enough to bridge large spans and are suitable for directly mounting extra wide, high-power panels.
With steel roof tiles as well, hanger bolts can be used in combination with an innovative hanger bolt clamp. This clamp allows the height of the profiles to be adjusted simply and quickly.
In certain cases a "mini-rail" system is used which quickly affixes short lengths of profile to the steel roof tile sheets with blind rivets.
Glass panels
Besides the conventional solar panels with a frame, solar panels without a frame can also be attached using glass clamps.
Free software
Using our free to use software, the ValkPVplanner, a complete project calculation with a list of items and project-specific installation guide can be obtained in easy steps.
Customer talking
'We've been working with the systems from Van der Valk Solar Systems for many years and we're very happy with the quality and innovations implemented in the products. Added to that, the new developments in the ValkPVplanner have made it much easier to design projects!'
NuVisionEnergy