ValkTriple | Solar ramp for 3 panels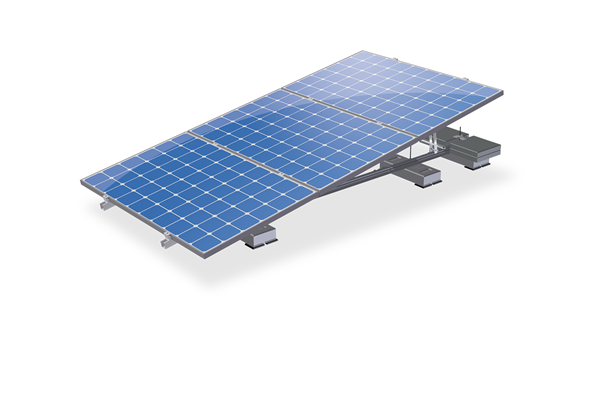 Unique to this PV mounting system:
Landscape configuration with three panels
Ideal for garages
Can also be used for ground set-up
Communal features of the ValkDouble, ValkTriple
Supplied as ready-to-use kit
Up to 100% more panels per roof
Universal mid and end clamps (H 28-50 mm)
Low height due to small fixed tilt angle of 10º
Developed according to European standards

Suitable for paneldimensions: Lenght approximately 1800, width max. 1100 mm

Extra extension kit available for paneelwidth till max. 1134 mm
The ValkDouble, ValkTriple and ValkQuattro are suitable for 'special' flat roofs such as extensions and lean-to roofs, garages and apartment buildings. All the materials used are of the highest quality. The system can also be installed quickly and easily.

The compact box with all the small material contains an easy-to-understand installation guide and a ballast table with wind region and building height variables. You can use the system to quickly calculate the right amount of ballast. Part of the ballast is included in the form of mass blocks. Depending on the requisite ballast, you should add extra ballast yourself. Attachment to the roof is also possible using consoles. These are available separately.


Glass panels

Besides the conventional solar panels with a frame, solar panels without a frame can also be attached using glass clamps. These are available separately.
Advice size

View here what size we recommend for the distance between the rows for minimal shading and optimum efficiency:
Customer talking
'We like Van der Valk Solar Systems because of their expert team, who can come up with really creative solutions and react quickly whenever necessary.'
Volta Solar