Product launch: ValkPro+ ballast trays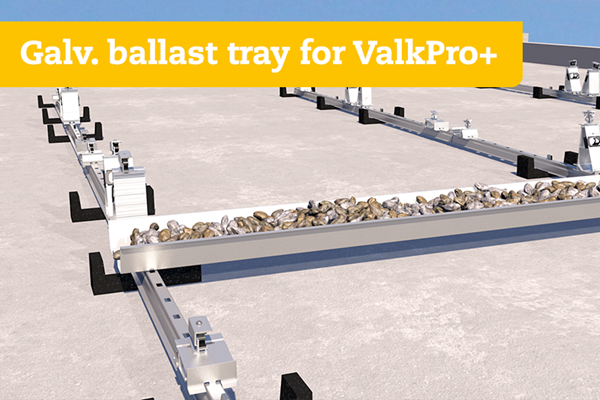 We are introducing a new option to increase ballast of PV installations: ballast trays for the ValkPro+ system.
Ballast trays
These ballast trays are weighted by means of gravel or clinkers. The trays are placed on the ValkPro+ roof carriers. Its clever design makes it easy and quick to install.
It is also a cost-effective ballast solution, because there is often already gravel on flat roofs. The gravel can simply be moved into the ballast trays! This also offers logistical advantages, because tiles no longer need to be ordered and transported.
The ValkPro+ ballast trays are made of corrosion-resistant steel and designed and calculated according to the latest standards.
Compatibility + calculations
The ballast tray is applicable for commercial and residential flat roofs. Available for L10° and P10° in south and east-west configuration. Calculations for projects with ValkPro+ are made quickly and easily in the ValkPVplanner. The ballast trays can be added as a service item.